80th Anniversary Northwest Federation of Mineralogical Societies
Show & Convention 2018
& "Parade of Gems" Show
Hosted by Yakima Rock & Mineral Club, Inc.
Friday, April 27th, 10 am – 6 pm
Saturday, April 28th, 10 am – 6 pm
Sunday, April 29th, 10 am – 4 pm
Admission:
Adults $4.00
Students $2.00
Children under 14 free with adult paid admission
Free parking
---

Info for Dealers, Participants, Out-of-Town Guests

2018-NFMS-COMPETITIVE-ENTRY-FORM
2018-DISPAY-APPLICATION
REGISTRATION-NFMS018-FORM
REGISTRATION-FORM-Silversmithing-Class-Deadline-March-30
For out-of-town guests, The Best Western Plus Ahtanum Inn is officially our host hotel. 2408 Rudkin Road Yakima, WA 98903  1-800-348-9701

---
What:
Raffle for over thirteen grand prizes
Hourly Door Prizes
Children's Activities
Silent Auctions
Grab Bags of Polished Stones
Wheel of Fortune – Every spin a winner!
Private Collectors Exhibits
Rock, Mineral & Fossil Dealers
Jewelry, Gems, and Bead Dealers
Rock, Mineral, Fossil and Lapidary Art Displays
NFMS Display Competitions
Jewelry Making Demonstrations
Jewelry Making Competition
Join The Fun:
Flint Knapping Workshops & Demonstrations
Wire Gem Tree Workshops
Metalsmith Workshops with Pre-Registration – Deadline March 30
Cabochon Making Workshops
Gold Panning Demonstration
Guest Speakers: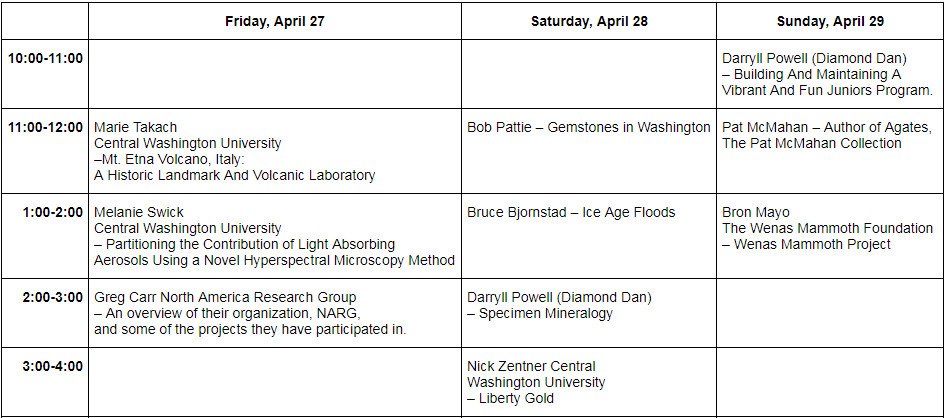 Speaker Information
Special Attractions:
North American Research Group (NARG)
The North American Research Group (NARG) – Displaying "Bernie" the Reptile Sea Monster, with many other fossil specimens, fossil Identification, and their 3-D Printer.
The Rice Northwest Museum of Rocks and Minerals
The Rice Museum has agreed to display part of their rare Liberty Washington wire gold collection.  The Liberty area has produced some of the largest and finest specimens of crystallized wire gold in the world.  We are truly honored to be able to include their display in our 2018 show.
Audie Turner Petrified Wood Collection
Now housed at the geology dept. at Central Washington University.
Wenas Mammoth Foundation – Mobile Education Unit
Space Needle Replica – Made of petrified wood & gem stones by Puyallup Valley Gem & Mineral Club, Inc.
Paleontology Demonstrations
Rare Ancient Ammonites from Canada
Peck's T-Rex Skull Fossil – Displayed by Doug & Janette True
MCBONES Research Center Foundation Coyote Canyon Mammoth Site from Kennewick, WA
Advertisers:
Dealers:
| | | | |
| --- | --- | --- | --- |
| Granite Mountain Nature Gallery | The World's Fossils & Minerals | The Gemstone Connection | Pig Eye Basin Gemstones & Jewelry |
| Martell & Martell | Earth's Treasures | Rockin' Roses | Langfordjewelers.com |
| Amber America | KittyKat Jewelry | Washington Treasures | Standing Stones Design |
| K&D Enterprises | A Point in Time | Rock Cabin Farm | Desert Rose Gems and Art |
| Pacific Rim Gem & Mineral LLC | The Crystal Lined Pocket | Aregawi Yekunno Adissea Gemsparkly | Mary Cutrera & Herbert Shepard |
| Rock Castle | Polson's Rock Shop | Ludemann's Lapidary | Sunstones & Such |
| Stone Crazy | F.P.E. Enterprise | Grand Products Co. LTD | Ivywhydesigns |
| Beryl Mountain Minerals | Paleo Enterprises | Manchee, LLC | |
Location:
Modern Living Building & Pioneer Hall
Central Washington State Fair Park
1301 S. Fair Avenue, Yakima, WA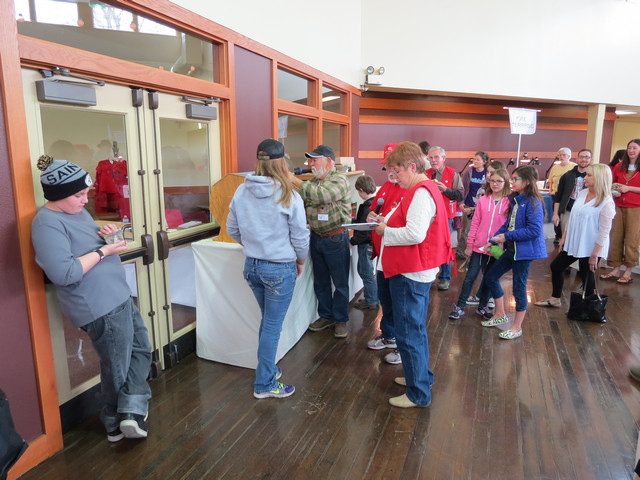 For out-of-town guests, The Best Western Plus Ahtanum Inn is officially our host hotel. 2408 Rudkin Road Yakima, WA 98903  1-800-348-9701