At each Regular Third Friday meeting we allot time for the AFMS Merit Badge Program where children are instructed in rock and mineral identification and lapidary arts.  The children also have their own display cases at the local and regional gem shows.
To give our Juniors more opportunity to spend with geology and lapidary arts, we have a group that meets (most) First and Third Thursdays of each month during the school year at the West Valley Church of the Nazarene.  Visitors always welcome.
2017-18 American Federation of Mineralogical Societies' Future Rockhounds of America Merit Badge Program Presented by the Yakima Rock & Mineral Club, Inc.
We are excited to announce that FRA Rock Club 2017-18 is starting on Thursday, September 7, 2017!
Juniors will be working to earn their "Fossils", "Rocks & Minerals", "Collecting", "Showmanship", "Earth Resources", "Communications", & "Leadership" Merit Badges.
Younger siblings are welcome to attend and participate, but only school age children may earn merits.
LOCATION & TIME:
West Valley Church, 7109 W Nob Hill Blvd. in Yakima
(Mostly) First and Third Thursdays from 4-5 p.m.
DATES:
September 7 & 21, October 5 & 19, November 2 & 16, December 7
***Winter Break***
January 4 & 18, February 1 & 15, March 1, 15 & 29, April 12 & 26, and May 3,17 & 31.
Membership dues include all classes, club meetings, and events (auctions, potlucks, field trips, sales, shop time, etc.). It includes the e-bulletin "Yakima Rock & Mineral Club News" and free entry into the Annual Rock Show in April at the State Fair Park April 27, 28,& 29, 2018.  Dues may be brought to class. Dues are now Annual (From January thru December – $6 per child or $18 per family).
Geology is fun!
Darrell Watkins
This is not a student drop-off program.  Parents can make use of this time by joining in your child's activities.
History of Future Rockhounds of America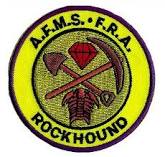 The Future Rock Hounds of America is a national organization. Below is their mission statement:
"Rockhound clubs throughout the Federations have been supporting youth groups for many years. Most clubs have always had young members but often didn't know what sorts of activities to provide for them. Consequently many youth fell through the cracks. We're sure no one would argue the fact that we need to ensure the future of our hobby by encouraging our youth."
As found on the AFMS website: "Under the direction of AFMS President Bill Cox in 1984, a committee was added to the AFMS called "Junior Clubs." Bill coined the name "Future Rockhounds of America" and designed a certificate to be given to junior clubs becoming members of FRA. It gives pebble pups and juniors the distinction of belonging to something worthwhile. The only requirement for kids to obtain FRA membership is to be a member of a regional federation club with an AFMS affiliation. There are no dues to pay to AFMS."
School age children can earn badges in each of 20 overall areas: Rocks & Minerals, Earth Resources, Fossils, Lapidary Arts, Collecting, Showmanship, Communication, Field Trips, Leadership, Earth Processes, Earth in Space, Gold Panning & Prospecting, Gemstone Lore & Legend, Stone Age Tools & Art, Rocking on the Computer, The World in Miniature, Special Effects, Fluorescent Minerals, Reaching Across Generations, Maps.
Those earning a minimum of 6 of the 20 badges earn a "Rockhound" badge as a mark of accomplishment and distinction. Details of the program may be found on the "Kids Corner" section of the AFMS web site: www.amfed.org/fra/fra_badge.htm.

Click here to download Junior Program Application.